Announcing Southwestern Ontario Dairy Symposium 2020 Keynote Speaker
---
"The Food Professor" – Dr. Sylvain Charlebois from Dalhousie University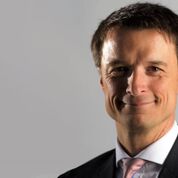 Dr. Charlebois will be presenting on The Future of Canadian Agriculture. Charlebois will delve into the Canadian Food Guide and what it means for rural and urban consumers. He will also cover the trends in plant-based protein and other topics impacting agriculture today.
Dr. Sylvain Charlebois is a Professor in food distribution and policy in the Faculties of Management and Agriculture at Dalhousie University in Halifax. He is also the Senior Director of Agri-food Analytics also located at Dalhousie University.
---
Full Day Speaker Line-up for Southwestern Ontario Dairy Symposium 2020
Follow us on Twitter @SWODSdairy and #SWODS2020 or on Facebook for the latest information.
For more information on the presentation topics and the speakers click on the Program tab at the top of the page. 
---
An Interactive Event Planned by Producers for Producers
Planned and sponsored by Dairy Farmers of Ontario, through its Dairy Producer Committees in Essex-Kent, Lambton, Middlesex, Elgin, Huron, Perth, Oxford, Waterloo, Wellington, Brant, Norfolk, Wentworth, Haldimand and Niagara, in cooperation with the Ontario Ministry of Agriculture, Food, and Rural Affairs.