Important Speaker Announcement
Due to unforeseen circumstances Dr. Tine van Werven will not be able to present at this year's symposium.
At 10:20am, Dr. Ann Godkin and Dr. Dave Kelton will be presenting "Reducing Antibiotic use at Dry-off – the Pros and Cons". The presentation will give a short summary of the response of dairy producers and veterinarians in the Netherlands in response to a change in regulations that caused a change in antibiotic use permissions (slides courtesy of Dr. Tine van Werven), followed by a short description of the Ontario Antimicrobial Stewardship project.
At 10:50am, Omic McDonald from Dairy Distillery will be be presenting on the "The Vodkow Story, Past Present and Future". Omid McDonald is the founder and CEO of Dairy Distillery, makers of Vodkow, a smooth and creamy vodka made from milk permeate. Omid's experience making alcohol for drinking suggests there is also potential for making fuel ethanol from surplus milk permeate.
For full bios on these speakers please visit the program page.
Announcing Southwestern Ontario Dairy Symposium 2020 Keynote Speaker
---
"The Food Professor" – Dr. Sylvain Charlebois from Dalhousie University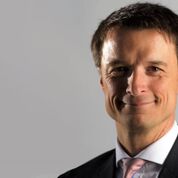 Dr. Charlebois will be presenting on The Future of Canadian Agriculture. Charlebois will delve into the Canadian Food Guide and what it means for rural and urban consumers. He will also cover the trends in plant-based protein and other topics impacting agriculture today.
Dr. Sylvain Charlebois is a Professor in food distribution and policy in the Faculties of Management and Agriculture at Dalhousie University in Halifax. He is also the Senior Director of Agri-food Analytics also located at Dalhousie University.
---
Full Day Speaker Line-up for Southwestern Ontario Dairy Symposium 2020
Follow us on Twitter @SWODSdairy and #SWODS2020 or on Facebook for the latest information.
Exhibits Open

Welcome

Reducing Antibiotic Use at Dry-off – The Pros and Cons

Dr. Ann Godkin

Ceptor Cattle Health and Education Programs

Dr. Dave Kelton

Dairy Farmers of Ontario Dairy Cattle Health Research Chair

University of Guelph

The Vodkow Story, Past Present and Future

Omid McDonald

Founder and CEO

Dairy Distillery

The Future of Canadian Agriculture

Dr. Sylvain Charlebois

Professor in Management and Agriculture

Dalhousie University

Hot Lunch featuring "Food from our Farms"

Planning for Non-authorized Visitors on the Farm

Kurtis Andrews

Farm and Animal Welfare Lawyer

Kurtis R. Andrews, Barrister & Solicitor

Emily den Haan

Dairy Producer

Haanview Farms/Sheldon Creek Dairy

Sgt. Laura Lee Brown

Regional Community Services Coordinator

Ontario Provincial Police

Mike von Massow

Associate Professor

University of Guelph

Opportunities to Improve Herd Reproductive Performance

Dr. Stephen LeBlanc

Professor in the department of Population Medicine at the Ontario Veterinary College, and Research Program Director – Animal Production Systems

University of Guelph

Speak your Mind!

Exhibits Close
For more information on the presentation topics and the speakers click on the Program tab at the top of the page.
---
An Interactive Event Planned by Producers for Producers
Planned and sponsored by Dairy Farmers of Ontario, through its Dairy Producer Committees in Essex-Kent, Lambton, Middlesex, Elgin, Huron, Perth, Oxford, Waterloo, Wellington, Brant, Norfolk, Wentworth, Haldimand and Niagara, in cooperation with the Ontario Ministry of Agriculture, Food, and Rural Affairs.